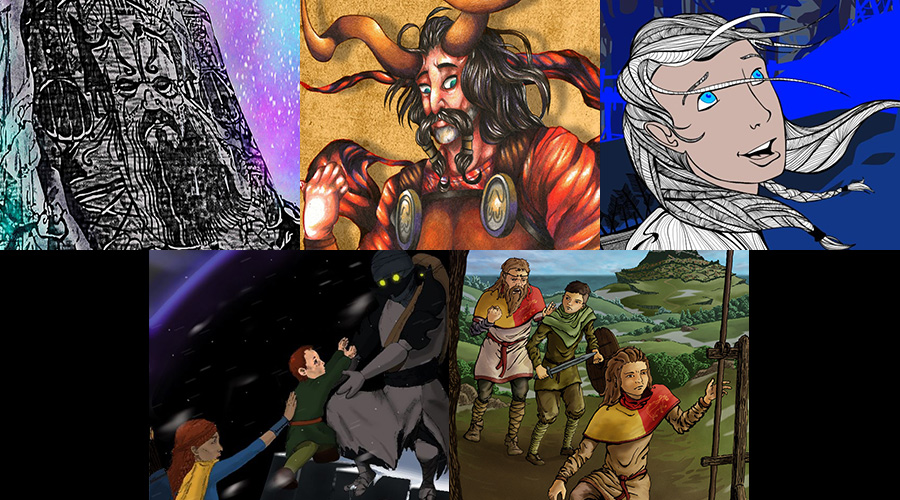 So fans and friends alike have been clamoring to see the fruits of the recently concluded art contest. In celebration of fan art Friday, we'll be presenting not but two postings giving the runners up their moment in the sun. We'll be presenting these in no particular order, but with a few thoughts on each piece. I will warn you that there is a possibility of spoilers from the prior two games in these pieces of art however. So if you're concerned about the story being spoiled, best look away. Consider yourself warned.
Just as with the winners, clicking on the image will take you to a larger version. Oh, and for part two of the runners up, go here.

Hakon
by 17Yame48
17Yame48's approach really tapped into a personal sweet tooth of mine. One must appreciate the exhausting effort that went into the shading of hundreds of cloth ripples. Although the artist took a conservative approach to color, the careful lighting and values make for a level of detail that draws the eye regardless.
I particularly appreciate the shadow on the parchment background. It makes the piece feel reminiscence of ancient Chinese works, much like Ma Yuan's On a Mountain Path in Spring, but with modern pop. The contest maybe over, but I'll be watching this artist's portfolio long after.
Be sure to visit yame's Deviant Art account too.
---

Godstone Blue and Purple
by Madeline B
Madeline B's piece involves the godstone of Bjorulf. What isn't clear is whether the background is meant to be suggestive of night or the encroaching darkness. Or perhaps the aurora borealis— the northern lights— which can be seen in Sweden should anyone have the inclination to visit.
In fact, looking at the art suddenly makes me think of "Standing Stones," perhaps my favorite track from the Elder Scrolls V: Skyrim soundtrack, by Jeremy Soule. Put the music on and listen to it for a while. And you may very well catch a glimpse of some of the magic Madeline is conveying.
---

Young Oddleif
by Evan Purcell
When we meet Oddleif in Banner Saga, we come to know her as the wizened wife of the chieftain, a master archer and excellent adviser. As such, pretty much everyone wonders what she must have been like when she was younger. Was she more adventurous? Did she see herself as getting out of traditional village life? Or perhaps someday taking charge of Skogr? And how did she end up with that scar on her cheek?
We're pretty accustomed to using the phrase "a good man," but perhaps we seldom enough say, "a good woman." But Oddleif is just that, mixed with initiative and the qualities of a strong leader. And I'm certainly not one to think that such individuals come from a total vacuum.
There's a story hiding behind those crystal blue eyes, mark my words.
For more of Purcell's work, head to his blog.
---

Dredge and Nid
by Kim Gibson
One of the things that got fans particularly excited for Banner Saga 3 was the promise of finally earning allied dredge units. The prior games sometimes even hint at the possibility. What's more frustrating is that while the menders seem to know what's going on, they're not sharing. Only the dredge might know for sure, and we can't understand them… so far.
Many fans strangely hope to not have reason to hate the dredge when this is over. Perhaps they even hope for a scene like the one provided by Kim Gibson— one that stirs hope. Despite how bizarre the dredge can be, there still might be something shockingly human about them. Even as the varl try to overlook that…
Time will tell.
---

Defiance
by Patrick Fittkau
Our last piece for this Friday comes from Patrick Fittkau, who noticed one intriguing detail about everyone's least favorite patience-destroying prince. In Fittkau's own words:
"I always wondered why prince Ludin uses a spear and not a sword like his father. A sword would seem a more kingly weapon. I imagined there must have been a day quite a while back, when he decided to oppose his father's expectations openly. Probably didn't do him much good then. So my name for the picture became: Defiance."
Fittkau certainly stoked the imagination with these excellent points.
By the way, be sure to check out his portfolio.
---
So that's all for this Friday. Tune in next week as we showcase the remaining five contestants.