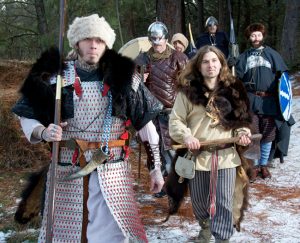 "Sean Pennington, Mogley Samter, Kveldulf Haursson, Anthony Barker, Michael Lancaster, & Eugene Taylor ready for action at the set." — Photo by Mark Anthony
String Saga: Quartet launches music video based on
Viking-inspired video game
By Jenka Eusebio
In the world of tactical RPGs, The Banner Saga promises nothing short of epic: stunning visuals, gripping gameplay, compelling plot, and an ambitious score composed by Grammy nominee Austin Wintory have come together to form a work of art inspired by Viking legend. Backed by a wildly successful Kickstarter campaign that raised over $700,000, indie game developer Stoic firmly roots The Banner Saga on nostalgic territory. The game features hand drawn 2D animation sequences which hark back to the golden age of American animation and storytelling that doesn't cut corners. Rolling out before the player is a narrative riddled with classic, novel-esque complexity. And so here we discover that time-honored, traditional artistic styles still pack a punch, and always will.
The same goes for music — which is why The Banner Saga project caught the discerning eye of the Videri String Quartet. "Classical music is the building block for all of today's music," says Videri founder Roselie Samter in an interview. "It's just like history, in order to understand current events, you need to understand history. Video game music is deeply rooted in classical music and in order to better understand what the composer is doing, you need to understand classical music."
The Boston-based Videri String Quartet is a classically-trained quartet which specializes in performing high-quality arrangements of video game music. In July 2012, Videri made its performance debut at the Rooster Teeth convention in Austin, Texas where they opened for the Jeff Williams' Freelance Orchestra. The quartet eventually forged a creative alliance with Austin Wintory, who featured them in The Gentleman's Private Collection, which is the bonus soundtrack of the game Monaco, and encouraged them to include an arrangement from Journey in their first album, Portals. In autumn of 2013, the composer then invited Videri to perform at IndieCade in Los Angeles.
Chain Mail and Sword — Photo by Mark Anthony
It was only in November of last year, after Wintory sent them the trailer for The Banner Saga, when Samter decided to base Videri's first professional music video on an arrangement of the game's soundtrack. Samter explains the first spark of inspiration: "The second I saw [the trailer] I realized that one of the main characters looked like a cartoon version of my father. The reason is because my father is a real life Viking." And she means it, too.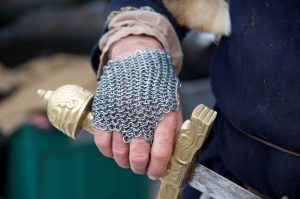 By trade, Weezil Samter is a Northern Idaho welder who works for the railroad. About a decade ago he got into blacksmithing which led, quite naturally, to the production of about five intricately rendered suits of armor. "My father is really into the whole older type Viking medieval [culture]," Samter says with a smile. "He wanted to make his campsite authentic so he started tanning his own hides. So now whenever anyone shoots a deer in Northern Idaho (which is a lot, by the way!) they give the hide to my father." Samter contacted the Journey composer suggesting that if Videri could do an arrangement of The Banner Saga, a music video replicating scenes from the game was definitely within the realm of possibility. She received a positive response within seconds.
The job of creating an arrangement fell into the capable hands of David Peacock, one of Videri's main arrangers, who completed the task in a matter of 10 days. This was followed by intense weeks of rehearsals and film production in the middle of a bitter winter, with the Viking scenes filmed in the wilderness of Western Washington, and the quartet sections in downtown Boston. Within eight weeks, the entire project was completed.
But creativity always comes with a certain degree of risk. For classical musicians to embark on a project of this nature, heated discussion often arises on how to bring "classical" and "video game music" together in a way that not only respects, but strengthens the musicians' artistic integrity — not an easy task when faced with the familiar snobbery endemic to all traditional art forms. Nevertheless, the quartet firmly stands its ground in the midst of the debate: in the end, the music speaks for itself.
"Who is the classical music world?" says Aubrey Holmes, first violinist and Videri's assistant director. "They're our peers. They're our teachers, friends, colleagues, and acquaintances. And I think it's been really cool that even people who I've talked to that first give me a raised eyebrow but then have heard us play… it really changes their mind when they hear it. They think it's awesome and I've had a lot of friends do 180's on the whole idea of it."
"In many ways it's like opera because it's so high drama," says second violinist Renee Spady, commenting on the stylistic overlap. "Everything is kind of at opposite ends of the spectrum and there are so many different new techniques so it's very challenging. Video game music is a great vehicle to be able to play modern art music."
Level of Detail — Photo by Mark Anthony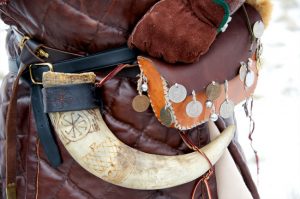 Cellist Jeremiah Barcus also enjoys the opportunity to generate audience connection, which is particularly strong with long-lived games like Mario, The Legend of Zelda, Donkey Kong, and Final Fantasy. The music taps into a collective cultural memory that bridges generations. "One of my favorite parts about playing in this quartet is that when we're playing a piece that is highly recognizable, you see a gasp go through the audience," he says. "[You see] kids getting so excited that they know and play that game. Adults our age become kids again because we're playing music from their favorite video games."
Videri, a Latin word meaning "to be seen" and the quartet's namesake, alludes to the role of music in illuminating visual narratives. A music video based on The Banner Saga soundtrack is the kind of venture the Videri String Quartet thrives on: bringing tradition and modernity into a space where people can see a story unfold through the musician-narrators. Here, the music not only makes the moment, it is the moment.