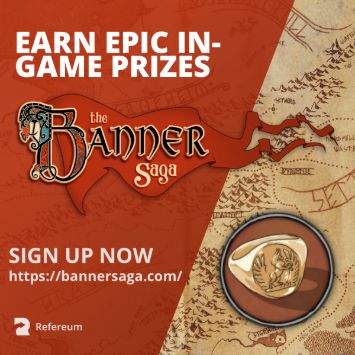 Sign up, earn points and win amazing Banner Saga 3 rewards powered by Refereum!
We've partnered with Refereum to bring you AWESOME Banner Saga 3 Steam rewards including in-game items, Heroes, and wallpaper! Get started now on BannerSaga.com.  Just click the yellow "Rewards" arrow at the bottom left-hand side of the page and follow the steps to start earning rewards!
How to Unlock Banner Saga Rewards:
It's easy to participate, just find the yellow "Rewards" button on any page here at BannerSaga.com and sign up on the Refereum widget!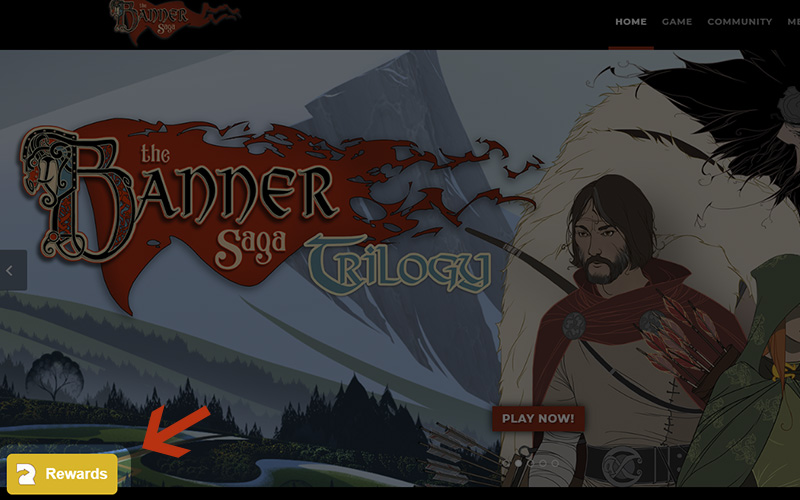 By completing quest-like actions through the Refereum widget you'll earn points toward your progress and move up the reward tiers. Each tier has a specific reward which will be made available to you shortly after the promotion ends, on December 12, 2018.
Please note: the point gained on the Banner Saga site during this campaign count toward only the digital rewards listed below. Points gained on the Refereum site do not apply to this Banner Saga campaign and any points gained during this campaign are not carried forward to future campaigns.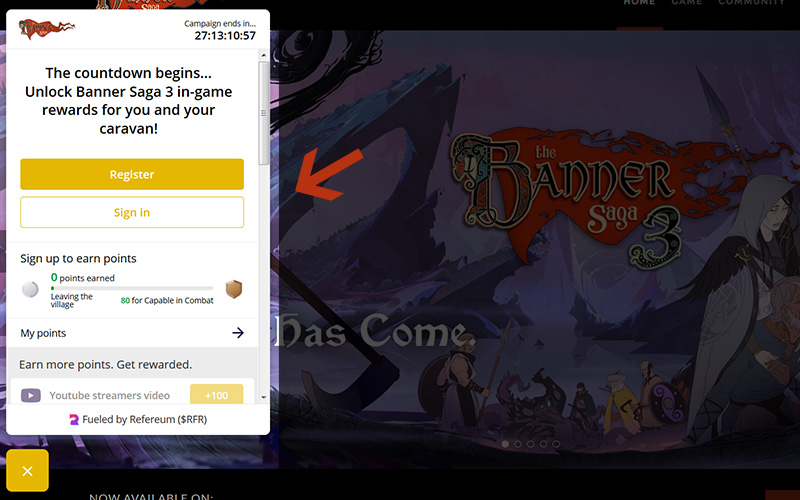 Remember to check back daily for updates and new actions!
Look at all that loot!
Whether you're new to the series or a huge fan, the Refereum Engine has rewards for you! Let's take a look at what it takes to get into each tier and what the rewards are:
Capable in Combat- 80 points

BannerFolk DLC –

Banner Saga 3, Steam In-game Item

and Wallpaper
Wise and Willful – 350 points

Petrie Clan Ring –

Banner Saga 3, Steam In-game Item

Dredge Slayer – 2,000 points

Banner Saga 1 Fully-Orchestrated Soundtrack

Mover of Suns – 4,000 points

Banner Saga 3, Steam In-game

Item trio: Holfi's Custom Carts, Mala Prayer Beads, Heraldry On Start Screen

Survivor – Top 10

Kivi, in-game hero for

Banner Saga 3 on Steam
You may have noticed that the top tier "Survivor" has a "Top 10" where the points are typically listed. That's because it's a battle to the top! The ten best performing reward masters will be announced at the end of the campaign and get the rare Kivi hero! For those of you who weren't a part of the Pre-order or a Kickstarter, Kivi was only available then… this is the only existing way to recruit Kivi into your lineup of heroes for Banner Saga 3 on Steam.
Reminder about the fine print
To be eligible for any of the fabulous rewards listed above, you must sign up on the widget at bannersaga.com, earn points, and reach the tier before the program ends on December 12. All winnings will be distributed by Stoic after the campaign is complete. You must own Banner Saga 3 on Steam to redeem the rewards, outside of the soundtrack in Tier 4. All in-game rewards are Steam rewards. As always, to score points towards Refereum Gaming's Season 7 you need to be signed in on refereum.com and have Twitch activated on your profile.
If you haven't signed up for Refereum yet, you can do so on refereum.com now!